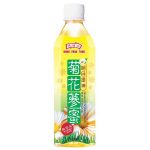 American Ginseng With Honey Drink
Ingredients:
Purified Water, Cane Sugar, American Ginseng, Natural Honey, Honeysuckle Flower/div>
Benefits:
This drink packs a stimulating energy boost as it quenches thirst and strengthens the immune system.
American ginseng with honey drink clears heat, moistens throat, and contains oxygen-boosting saponin that fights off fatigue.
Related Products
Qing Bu Liang

Ingredients:

Purified Water, Rock Sugar, Jobs Tears Seeds, Fragrant Solomonseal Rhizome, Lily Bulbs, Lotus Seeds, Longan, Gordan Euryale Seeds, Coastal Glehnia Root

Benefits:

Qing Bi Liang's "mild" property is suitable for whole family to drink. It helps to eliminate heat, nourishing, strengthen spleen and stomach and nourish lung.

Squeezing Tortoise Plastron Jelly for Clearing Heat

Ingredients:

Tortoise Plastron, Rhizoma Smilacis Glabrae, Rhizome of Rehmannia, Flos Lonicerae, Fructus Forsythiae, Honey

Benefits:

Heat Clearing and Dampness Removing: This Jelly helps to quench thirst and soothe dryness. It also improves cases of Constipation, Aphthous Stomatitis and Acne Outbreak.